Our Services as a UI | UX Agency
Why are We the Right UI/UX Design Agency?
User Interface & User Experience Design require a view from different perspectives in order to consider all cases, to anticipate future developments and problems and to develop a result that leads to lasting success. We are a well-coordinated team from the areas of strategy, design, development and marketing that uses our combined expertise to create unique designs and user experiences that (potential) customers and employees will love.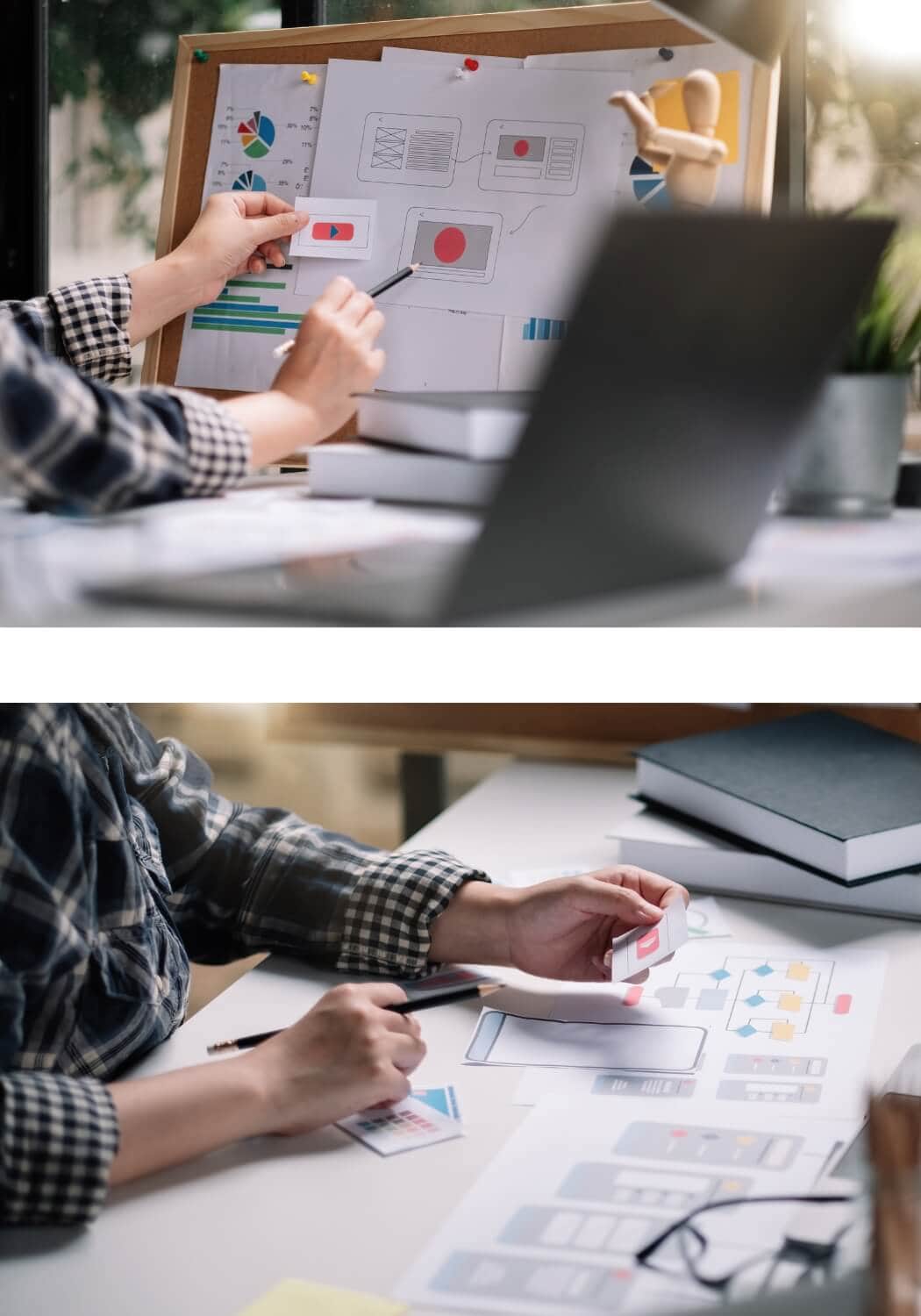 UX design stands for User Experience Design and is an interdisciplinary approach that combines design, technology, psychology and communication to create an optimal user experience. With the help of analyzes and usability tests, user experiences for products, services and processes are created and optimized. In addition to aesthetics and structure, user-friendliness, processes and efficiency of interactions as well as the success of the product are taken into account. The goal is an intuitive and positive user experience that leaves the customer with a good feeling.
UI design is the visual component of the user experience that focuses on the user interface, layout and interactions with the product. It involves the development of user-friendly and intuitive designs based on the needs of the user. While UI design focuses more on the visual, user experience is more about the feeling and experience of using an interface.
What is the concrete difference between UI and UX design?
UX Designs focus on the experience of the user, while UI Designs center on the appearance of the product. UX Design involves a thorough examination of the product from the perspective of the user. It encompasses a series of activities aimed at improving user-friendliness, user experience, and user behavior. On the other hand, UI Design is concerned with the aesthetics and visual representation of an application. It involves creating and refining visual elements, such as color palettes, fonts, images, and buttons. UI Designers are responsible for ensuring that the design of the system is intuitive, appealing, visually attractive, and maintains visual consistency.
What is A/B testing and how can it be utilized for UI/UX design?
A/B testing is an experimental approach to measuring the performance of two versions of a product or service. It's often used in software development, UI and UX design, as well as marketing. The A/B testing method can be applied in various scenarios, such as testing user interfaces, landing pages, and websites. This helps to find the best version, based on data, for customers, internal company processes, and technical workflows.
How do you assess the user-friendliness of a design?
An effective way to check the usability of a design is user testing. By observing, recording, or surveying a user's behavior, the intuitiveness and user experience of a design can be measured and improved. There are different types of such tests eg lab tests, remote tests, usability walkthroughs that encourage users to express their opinions while completing a specific task. A/B testing and online surveys are also widely used to find out if a certain feature or look and feel in a UX/UI design is user-friendly.
How do you measure the success of UI / UX designs?
To measure the success of a UI / UX design, we apply different methods depending on their meaningfulness and requirements. Starting with the comparison of conversion rates, bounce rates, and dwell time, through surveys of users to measure satisfaction, to usability tests and the use of benchmarking data for comparing results, we employ various methods to gauge the success of our designs.
Your Project is in Good Hands
With individual & user-oriented designs, we ensure that your project makes an extraordinary impression and, above all, creates real added value - for your brand and your users.